Making money with affiliate links
What all interior designers should know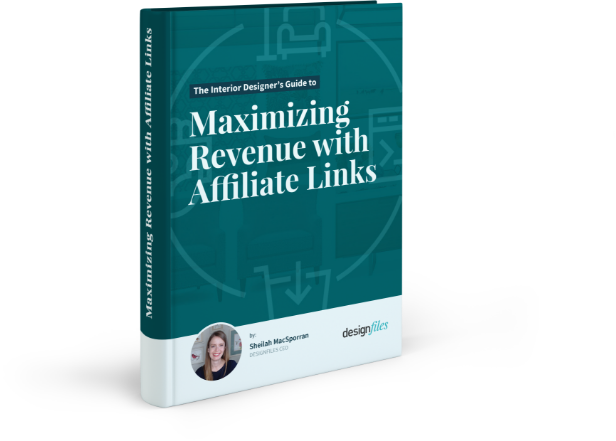 If you recommend retail products in your client projects and...
You're sick of being shopped by your clients and earning nothing on products sales
Your designer discount isn't worth the time it takes to handle the ordering process
You're done trying to explain to clients why you charge more than the retail price
Then keep reading!
This book is for any interior designer who:
Uses retail products in their client projects
Has clients who prefer to shop the items themselves
Would prefer to not handle the ordering process but...
...still (rightly) wants to earn from all product sales
Wants to learn how to monetize their social content
All your questions about making money with affiliate links - answered
What's the difference between trade accounts and affiliate programs?
Why are designers choosing to go down the affiliate route?
Where do I find high paying affiliate programs and how do I join?
How do I use these links to increase profit on client projects?
Can I really earn money from my social content?
This ebook also includes
A list of 80+ popular and high-paying programs and where to find them
Detailed step-by-step guides for navigating the top 4 affiliate networks
Expert tips on how to generate passive revenue from all your social content
A bit about me:
Hi, I'm Sheilah MacSporran, the CEO of DesignFiles and I've spent the last decade creating online design tools, first for homeowners and now exclusively for interior designers.
Over the years I've seen how the changes in the industry have affected interior designers and their businesses. Putting in hours of work only to end up getting shopped by your client is beyond frustrating. And let's face it, many of those 'retail designer discounts' barely make it worth your while to manage the ordering process.
If you've been feeling the same and you're looking for other ways to earn more from your client projects and social content, my hope is that this ebook will provide you with new ways to maximize your time, creativity and profits.
Featured on:
Stop leaving cash on the table.

Get the cut you deserve for every product you recommend without having to manage a single order.
Enter your email and name for immediate access to your FREE guide: